What fabrics will be the best choice for you to consider for your home?  Window treatments, furniture, accent pieces, decorative pillows, bedding ensembles are all places that decorative fabrics can be beautifully and creatively used.   With the multitude of man-made and natural fibers available from which to select, it pays to do a little homework.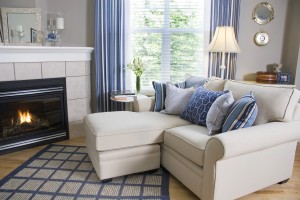 Natural Fibers.  Cotton has always been the number one choice of designers and homeowners alike.  Cotton dyes well, and has unlimited styling potential.  It tends to have a "soft hand", and doesn't pill or fuzz.  It's an extremely durable fabric, and can be blended with other fibers in a textile.  Cotton can be made into beautiful, full-bodied fabrics and has long been the favorite of upholsterers.  A custom drapery made from 100% cotton fabric will be crisp or flowing, depending upon the type of fabric weave.
Wool Fibers.  Known for being springy, resilient, soft and kinky, wood fibers are extremely durable.  After bleaching, wood may be easily dyed and the fiber will retain its color depth for a very long period of time.  It is also a very expensive fiber, and for this reason you will rarely see it in decorative fabrics.  Wool tends to be used more for upholstery, area rugs and carpeting rather than draperies.
 Silk.  Known for its natural luster, silk is undeniably one of the most beautiful decorative fibers of all.  There are many grades of silk, and many times silk is blended with other fibers during the manufacturing process.   Strong light may tend to discolor silk and might even disintegrate the fiber.  Today's manufacturers have woven many fabulous designs into silk fabrics – including the popular embroidered silks.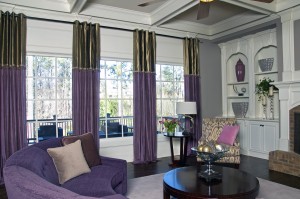 Polyester.  A man-made fiber, polyester is used quite often in decorative textiles because of its strength. Another great characteristic of this strong fiber is its ability to stand up under strong sunlight.  Textiles of polyester are also abrasion-resistant, have a soft, warm "hand" and dye extremely well.  It may be used for both drapery and upholstery fabric.
Probably the most often used textile is a combination of polyester and cotton.  The best characteristics of both fibers are incorporated to produce an extremely versatile and nicely priced fabric.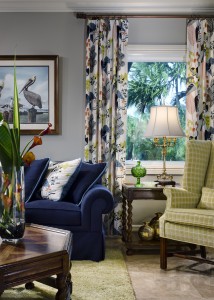 Naturally, there are many other fibers used in decorative textiles, but these are the most common.  As always, availing yourself of the expertise of a professional interior decorator like those at Decorating Den Interiors, will definitely be helpful to you as you begin the process of choosing the right fabric for your decorative needs.