Whether you have a library of recipes or one of take-out menus from area restaurants, your home's dining room is likely reserved for special or celebration meals.  As the holidays approach and you start making plans for special meals in your dining room with family, friends, and co-workers, do not forget one of the most important elements of a successful dinner – atmosphere.
Every element in your dining room should contribute to setting the tone and the mood of the dinner. Start setting a mood of elegance and sophistication by choosing draperies in soft, rich, and sumptuous fabrics.  Luxurious fabrics, such as silks, satins, and sheers with iridescent and luminous fibers enhance the ambiance of any room but are especially effective in creating ambiance in a dining room.  Note that these draperies need not be used exclusively for window décor.  The entrance to your dining room can be beautifully accented by adding stationary drapery panels at one or both sides of the walls.  These draperies, called portières, are pulled back with tie-backs made of the same fabric, a contrasting fabric, or a cord and tassel.  Of course, the architectural style of the room is a key consideration in deciding whether portières are a good choice.
The dining table is probably the next most important element.  A round dining table, for example, increases the sense of coziness and encourages free-flowing conversation.  It also allows last-minute guests to be "squeezed-in" more comfortably.  Dining chairs should be comfortable and covered in fabrics (or leather) that are pleasing to the eye and to the touch.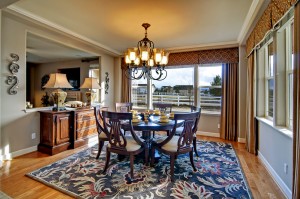 Lighting in the room is another key ingredient for a successful dinner "recipe."  Connect your chandeliers and other light fixtures in the dining room to dimmers.  Light should be enough to allow your guests to appreciate the food you are serving while also bathing the room in a warm and soft glow.  Candles are a great way to provide soft, indirect lighting while also setting a romantic or intimidate mood.  Be careful, however, not to use scented candles at the dinner table.  You do not want the candles to compete with the aromas of the meal.
After the décor is completed, the food has been prepared, and the table is set, sit down and enjoy.  Good company, great food, and beautiful surroundings – relax and have fun!