Are you're tired of your living room – or better yet, is your living room tired of you?  Well, here are a few helpful tips you might want to consider when you decide to give this often used room a brand new look! 
1.  COLOR.  The color of your new living room should be harmonious with the rest of your home.  Since this room will be used by the whole family, be sure that everyone weighs in on your final color selection.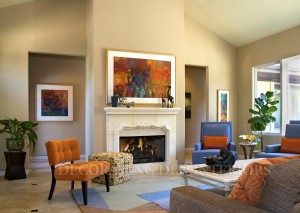 2.  COMFORT. Comfort is key when you select new sofas and chairs.  I suggest you take a personal inventory of the activities your family enjoys in your living room.  If relaxing on a sofa or chair, or playing video games is a priority, then you will definitely want to consider purchasing a comfortable, "cushy" sofa.  "Chair and a halfs" are very popular now – as are ottomans – especially ottomans that feature storage!     If you want your room to be totally hospitable, then be sure to select well proportioned and comfortable seating.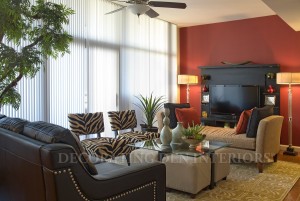 3.  FURNITURE.  Consider grouping your furniture to allow for an easy flow of conversation and activities.  It's also important that your furniture be adaptable to different situations.  You'll want ample space for extra seating when you're entertaining a large number of people.  Try arranging your furniture so that it's pleasant to watch TV, listen to the music, or even work on the computer.  Consider traffic patterns carefully so that there will be no awkwardness in moving around the room.  Also, give a thought to coziness as well as the aesthetics of your furniture.   A home without warmth, no matter how tasteful, can truly have an adverse effect on most people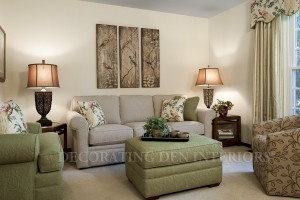 4.  FABRICS.  You'll want your fabric selections to be pleasing in texture as well as harmonious in color.  "Wear-a-bility" – and ease of maintenance are also important considerations!.
5.  LIGHTING.  Illuminating the special activities you have planned for your living room, should definitely be included in your plan.  You'll want a mix of soft lighting and direct or task lighting to insure that those special activities are well lit. 
As the song says, "Let's start at the very beginning!"  And the beginning for any new decorating project is the creation of a master plan – one that will help guide you through all the decorating decisions you'll be making over the coming months.  Enjoy the process!