Is a magnificient media room in your future?  And do you envision this room filled with deep, cushy, comfortable leather recliners, complete with drink holders?  Can you see yourself surrounded by soundproofed walls and ceilings?  Does your perfect media room scream comfort, relaxation and casual drama?  Well if so, here are a few great ideas you might want to incorporate when you begin creating your very own – one of a kind – dramatic hideaway!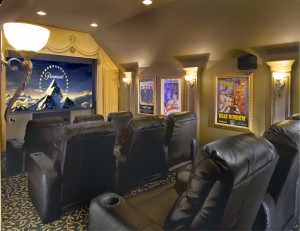 No well appointed media room would be complete with out a large screen plasma TV or drop down movie screen.   After all, movie and television viewing are the main activities in this room.  BUT, what if your media room also needs to double as a family room?  If that's the case, you might want to consider incorporating a remote control entertainment center, allowing your TV to magically disappear into a beautiful piece of furniture when not in use.
Today's media rooms can be expanded to include a variety of additional design options.  How about including a game table?  Did you know that many of the game tables available today can actually expand – or flip over?  One side of the table might feature a felted poker table, while the other side features a backgammom board!